| | |
| --- | --- |
| | MP3 Sample: Beep (101kb) |
In 1989, a friend and I drove from Atlanta to Macon to see Pylon. It happens that they were opening for R.E.M. But there was no doubt who we wanted to see more. We arrived just as Pylon took the stage with "Crazy." On the way to our seats, we overheard a kid say: "They're playing an R.E.M. song." We both wanted to smack him. (About that song, Peter Buck said: "I remember hearing their version on the radio the day that Chronic Town came out and being suddenly depressed by how much better it was than our record.")
Pylon arrived on the Athens music scene around the same time as R.E.M. and the B-52's. But R.E.M. took about five years to catch on and the B-52's took about ten years. Pylon was even more progressive and, unfortunately, did not last to achieve the same success. However, when Rolling Stone named R.E.M. as America's Best Rock & Roll Band in 1987, Bill Berry deferred the honor to Pylon which hadn't played since 1983.
Macon wasn't one of the more memorable Pylon shows -- probably because the venue was so large and had seats. However, I still have many, many fond memories of Pylon shows:
Dancing ourselves silly at the Athens Fairgrounds and discovering that we'd dropped our shades and pounded them into the ground. (15-Apr-89)
Bouncing and sweating on 13th Street in Atlanta for a block-party radio-simulcast. (Does anybody have a bootleg?)
Jumping on-stage with Mike Mills and others for the final song of their final final show at the 40 Watt Club in Athens. (22-Nov-91)
I still can see Curtis pounding the drums, Vanessa screaming and gyrating, Randy cutting angular chords, and Michael dancing the bassline. I have to admit that I'm partial towards Michael: he inspired me to play bass. Half of the first dozen songs I learned were Pylon songs. Of course I miss them. But I thank them profoundly for so many incredibly fun times.
(Pylon played from about 1979 to 1983 and from 1988 to 1991. Their sound was a cross between the angular minimalism of Gang of Four and the frenetic dancability of the B-52's. Their quintessential Hits CD features 20 tracks and still could be findable. Search for it at Amazon and GEMM. But PLEASE be aware of a British band that formed in 1999 also with the name of Pylon. With releases on the Subjugation, Jealous, and maybe Crackle labels, this is NOT the same band!)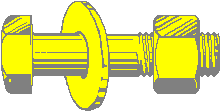 ALBUMS:
Gyrate
1980, DB Records, DB54
Volume, Feast On My Heart, Precaution, Weather Radio, The Human Body, Read A Book;
Recent Title, Gravity, Danger, Working Is No Problem, Stop It.
Produced by Bruce Baxter, Kevin Dunn & Pylon.
Engineer - Bruce Baxter.
Executive Producer - Danny Beard.
Re-released as Gyrate Plus (16-Oct-2007)
Pylon!!
EP 1980, Armageddon, AEP12004
Cool, Dub, Driving School, Danger.
Chomp
1983, DB Records, DB65
K, Yo-Yo, Beep, Italian Movie Theme, Crazy, M-Train;
Buzz, No Clocks, Reptiles, Spider, Gyrate, Altitude.
Produced by Chris Stamey & Gene Holder.
Engineered by Mitch Easter.
Executive Production by Danny Beard.
Re-Released as Chomp More (20-Oct-2009)
Hits
1988, DB Records, DB91
Beep, Cool, Dub, Volume, Altitude, Gravity, Danger, Stop It, Feast On My Heart, M-Train,
K, Driving School, Crazy, Yo-Yo, The Human Body, Read A Book, No Clocks, Recent Title, Working Is No Problem, Weather Radio.
Chain
1990, Sky Records, 7-2020-2
Look Alive, Catch, B-Complex, Sugarpop, There It Is, Springtime, This/That,
Go, Crunch, Very Right, Metal, Outside, Sloganistic.
Produced by Gary Smith.
Engineered by Steve Haigler.
SINGLES:
Cool/Dub
(1979, DB Records).
Crazy/M-Train
(1981, DB Records, DB61).
Beep/Altitude
(1982, DB Records, DB62).
TRACKS:
"Stop It", Music from the Movie, "Athens, Ga. - Inside/Out" (1987, I.R.S., IRS-6185).
"Cool" and "Party Zone", Squares Blot Out The Sun (1990, DB Records, DB72).
Enclosed find a hodge-podge of a hurlyburly mishmosh of a various type of LP, featuring present & former DB show acts along with a couple of related historical items. Initially this was scheduled for release in 1984 (hence the ancient catalog number), but a series of ugly coincidences led to the delay that all the world now knows about. Opportunistically, the record within now includes groups as yet not conceived when the germ of Squares was planted.
'Cool' by Pylon was the A-side of their first single from early 1980. Initially 'Feast On My Heart' was to be the release, but 'Cool', written a couple of days before the session, took its spot.
'Party Zone' by Pylon was recorded live during their early 80's last show in Athens. The band was helped on stage by audience members near the tune's finale. Early 89 has seen the release of their 'Hits' collection on CD, and Pylon back together for live shows and new recordings.
VIDEOS:
Athens, Ga. - Inside/Out
(1987, PMV, 041 630-3) One of the most acclaimed musical documentary feature films ever produced, "Athens, Ga. - Inside/Out" is a fascinating trip through one of the most creative regional outbursts of music, art and poetry since such 60's scenes as San Francisco and Liverpool. It features must-have exclusive live performances and interviews with Athens stars R.E.M. ("Swan Swan H" and "All I Have To Do Is Dream") and the B-52's. But much of "Athens, Ga.'s" richness also stems from its moments with the town's other diverse talents, many equally brilliant in their own individualistic ways. Altogether an immensely entertaining and indispensable movie.
BOOKS:
Party Out of Bounds: The B-52's, R.E.M., and the Kids who Rocked Athens, Georgia
Rodger Lyle Brown (1991, Plume, Z6631). Athens in 1977 was cheap, hot and trashy. But then the dancing started, shaking the ground, changing the landscape forever. Party Out of Bounds beholds the frenzied phenomenon of punk and New Wave, and chronicles the bizarre, energetic beginnings of groups like The B-52's, The Fans, Pylon, Method Actors, and the eclectic rhythms of R.E.M. A fast-paced tale of wild kids rampaging in ramshackle houses and jamming on pawn shop guitars, it vividly portrays the sound and the fury of a generation emerging from the liberal sixties and growing larger and louder in the looming shadow of the Reagan era. This electric, you-are-there account of artists and musicians, meetings and parties, sex and drugs, tragedies and triumphs vibrates with the extraordinary events that changed the face of contemporary rock and roll.
Here is a fascinating insider's look at the underground rock music sensation that swept the sleepy college town of Athens, Georgia, and spawned such supergroups as the B-52's and R.E.M.
LINKS:
D-Fish created Party Zone for Pylon fans
and is in no way affiliated with the band
or any of the businesses named here.

Last modified on
Tuesday, 01-Sep-2020 18:50:06 UTC

Note: For many years this page was originally written and maintained by my cousin. He has graciously asked me if I would host this page, dedicated to one of our favorite bands to come out of Athens, GA.

Thank you, Rob.

- Clair